What to expect on your first appointment

On your first visit you will be asked about your health history and current complaints.
Traditional Chinese medical examination (for both acupuncture and herbal diagnosis) typically includes:

* palpation of the abdomen


* palpation of various acupuncture points and reflex zones
* observation of the tongue and
* pulse taking (on both wrists)

Please bring with you copies of your recent medical investigations and test results, and list of medication you are taking.

Wear comfortable loose clothes (clean towels/ sheets are provided for your convenience).

How does it feel

For the acupuncture treatment, fine, hair-thin, single-use sterilised needles are inserted into specific body points to stimulate the energy-flow in channels.

You might experience a slight pinch as the needle goes through the skin; as it reaches the channel, a tingle, warmth, heaviness or tugging sensation may be felt.

The body's Qi may also be stimulated without needles – by cupping or moxa (a smouldering herb used to warm body points).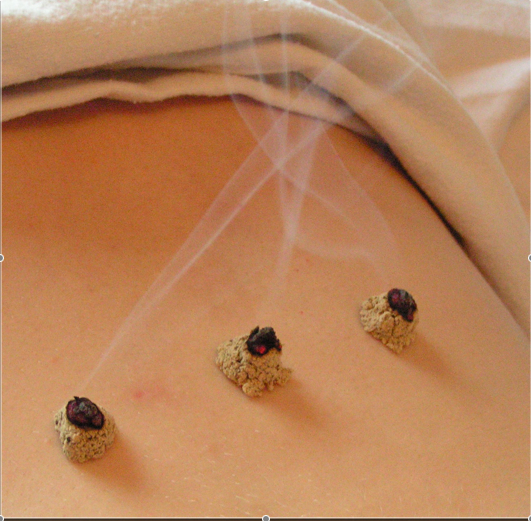 warming the lower back with moxa using moxa to heal bruises


How many treatments will I need?
This will depend on your condition. A long-term deep-seated problem could take three to six months of regular weekly sessions to clear, whereas minor complaints could require just one or two treatments. Your age, constitution and general state of health will also be a factor.

Usually, a combined treatment of both herbs and acupuncture would achieve best results. Herbs work on a deep material level, while acupuncture cirqulates qi (immaterial energy) in the body.

Some people respond better to just herbs, or just acupuncture. Both modalities are powerful therapies in their own right.

Dietary, exercise or life-style recommendations given during the treatment should be followed to help achieve best results.

Herbs

The herbs used in the prescribed formulas are of highest quality, sourced from reliable suppliers, which are approved by the Register of Chinese Herbal Medicine, the regulatory body for Chinese herbalists in the UK. Before distribution, all herbs are examined for traces of heavy metals and pesticide levels in accordance with EU law. They are free from preservatives, chlorine and aluminium phosphate.

The herbs come in two formats:
1) dried twigs, roots and leaves, which patient would have to cook at home, like tea;
2) concentrated herbal powders (granules) - herbal extracts, spray-dried in laboratory conditions with strict quality control and sequrely packaged. A spoon of powder is dissolved in hot water, like an instant coffee.

Both formats are effective and have their own advantages. Powders, for example, are good to take on holidays with you, where cooking facilities are limited, or if you don't have time to cook the herbal tea. The dried herbs have more flavour, they feel more real and vibrant, and full of ancient power - closer to the magical root of Oriental medicine. The dried herbs are more often prescribed for acute conditions.


Fees

Acupuncture (1 hour) £60
Herbal consultation (half an hour) £40 *
Herbal follow up session £20
Herbal prescription cost depends on the ingredients and weight,
typically £15-£25 per week
* The fee for herbal consultation is waved if you are taking both acupuncture and herbs
** It is always worth checking with your Health Insurance provider if you are covered for Acupuncture treatment. Many insurance companies will cover acupuncture treatments by registered BAcC members (MBAcC). Often a referral from GP or specialist is required.